How excited were you to see that you got tagged in our first LM note of the 2014 season? I know it had to be in the top 5 best moments of your day because you miss this league so goddamn much. It's cool. I also feel the pain.
JJ texted me the other night to tell me he is watching Canadian football. I feel like that's slightly more productive than what I've been doing, which is watching football-related programming, changing the channel after 15 minutes because it makes the withdrawals worse, then changing it back because I just can't stay away. Also I wrote this LM note, which was really therapeutic.
It's been this way since the World Cup ended. Speaking of which…
 #BecauseFutbol
The 2014 World Cup finished, and the #USMNT played valiantly in 4 very dramatic matches. Everyone was in awe, and soccer had never been so popular in America in recent memory. You might even say it was the most popular sport in America this summer.
But that's exactly what it was. A summer fling. Nothing more.
I'm sorry, soccer. It's not you, it's me. We had an amazing summer together. Clint Dempsey was great. Tim Howard was spectacular! Futbol is awesome, but I just woke up one day and I knew what I never was sure of with you. I knew Football is where I belong. Yes, Soccer, you're fun and you're exciting. You're not wrong, you're just not right about me.
(Editor's note: As much as I'd like to, I can't take credit for this section – JJ wrote it. Also, Clint Dempsey could get it.)
 A Bigger, Better League
Our league has 12 people in it now! We decided there were just too many good players that weren't being used. And there are a lot of good things that come in 12s, like apostles, eggs, oysters and condoms.
Jayson was cut from the league due to gang affiliations. But we welcome three more teams that will be managed by Chryst'l Sanchez, Gabe Ferguson, Madonna (Donna) Breganio and Raniel Lingao (the latter two will be managing one team).
Roster and Scoring Changes
Adding two teams requires adjustments to our current setup. To ensure the talent pool isn't spread too thin, we are removing the WR/TE slot from your starting line and one bench position. We initially allowed 8 bench slots so you could have a backup for every position. But let's be real – you were just maxing out on RBs and WRs anyway. We still have one Flex spot for you to do with as you please.
Also, JJ and I like to find ways to make this league even more fun each year for you. We plan to implement a few more changes based on your feedback, which we will gather through a series of polls in our next LM note. Here's one you can take now to get your brain warmed up:
New League Name
Our 2013 League Name was "Penis of Unspecified Color." Anyone who has ever been on the receiving end of a dick pic knows that out of context, penises are intrusive and aggressive. They aren't even in the top 10 of aesthetically pleasing parts of the male body. Thus, we've opted for a new league name. Traditionally, our team name is based on something that our hilarious cousin Robert has said in our time together. But since we haven't managed a family reunion this year, I decided on The Jay Cutler Van Club.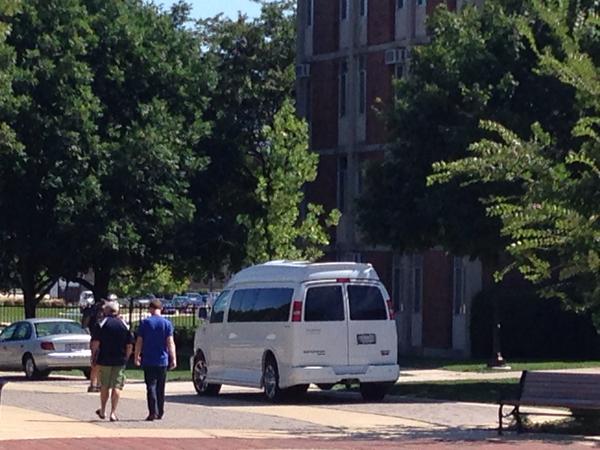 For those of you who don't know, Cutler now drives a white van. It's a conversion van, he says. It looks like the kind of van rapists decorate. Matt Forte asked if he could play video games in it after practice. I find it hilarious. And if Matt Forte would like to have company in that van whilst he plays video games, I'm down to just hang out. It's a pretty large van. We should all go.
If you hate this name, feel free to suggest others.
Since You've Been Gone
Off-season news is like manna in the desert. (I almost typed that as dessert, LOL. I want a cookie right now and that's why.) Covering all the things now is far too time consuming and you'd be all like TLDR anyway so here are some of my faves.
Russell Wilson gets consciously uncoupled. I totally called this because I follow him on Instagram, and his then wife suddenly disappeared from all of his Seattle Children's Hospital posts.
Ray Rice renders his jersey unwearable by self-respecting fans after video surfaced of him dragging his unconscious wife out of an elevator post-fight. Sorry Gabe. He was suspended for two games, and depending on who you ask this was either totally fair or completely unacceptable.
Josh Gordon continues to waste his talent. After failing yet another drug test (also getting a DWI), he's been suspended for a year. He went to rehab for a bit and is working out at training camp while appealing the suspension. I don't know whether or not he'll get to play this year, but Johnny Manziel must be dying.
Gronk comes back. He's not performing at 100%, but he has been cleared to play and is attending training camp. For now the Patriots can continue to uphold their high standard of bro-eyness.
Marshawn Lynch gives no fucks. While he is normally silent towards the media, he called Michael Robinson during a commercial break at NFL Network to announce that he's not attending training camp until the Seahawks pay him more.
Justin Blackmon gets arrested. He was pulled over for an illegal pass and the arresting officer claimed he smelled marijuana. The officer had Blackmon immediately detained because he was "rather large in stature and appeared to be athletically fit." I think the cop maybe got a little carried away. A little. You can watch the video and decide.
Michael Sam gets drafted by the St. Louis Rams. He's the first openly gay player in the NFL so haiiiii. He was not without critics – Tony Dungy was totally not feeling the idea of coaching the NFL's first out and about gay. I'm paraphrasing, but he said something along the lines of, "Gay people would be totally distracting; like way more distracting than a guy who allegedly ran a dog fighting ring." Oh. Okay.
Jimmy Graham is still a TE. The fact that he is paid as a TE and not a WR means he loses out on about $5 million each year. Nonetheless, training camp isn't awkward at all and Jimmy Graham seems okay with things now, showing once again that he's an absolute BAMF.
Anyway, keep an eye out for the polls note. Or wait restlessly until JJ or I tag you, thus alleviating you once more from your football withdrawals. And it's never too early to start thinking of a team name. I get dibs on the "YNCE" abbreviation though. NOBODY TAKE IT OR I WILL CUT YOU.